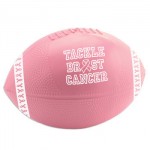 The National Football League (NFL) typically devotes each October in their regular season to breast cancer awareness.  The annual commitment by the league and its players is a commitment toward raising awareness and financial resources to the research and study of this deadly cancer and to also raise awareness for the support systems that are in place for survivors.  NFL Commissioner Roger Goodell implemented this change to the football season several years ago and the players and league certainly value the commitment and support the efforts.
Part of the awareness campaign deals with the color pink, which as we all are aware of by now, is the official color of breast cancer awareness.  For every game that is played in the month of October, the stadiums have multiple elements of pink throughout the venue.  For example, end zones typically include pink colors.  Also, the markings in the middle of the field, at the 50 yard line, and also on the 30 yard lines include elements of pink.  There are many posters and banners that are placed throughout the stadiums that also give evidence to the color pink as well.
While the NFL has made October their annual dedication to breast cancer awareness, the players also provide a strong support through the equipment they wear and their off field activities.  These activities include visiting with survivors, hosting meals and social events for breast cancer survivors, and even inviting women to attend their games and stand on the sidelines or even watch from the seats. The equipment the players wear includes pink cleats and shoes, gloves, arm bands, and more.  There is a strong dedication from the league and from individual players and organizations.  Both sporting fans and survivors of breast cancer agree that the level of support from these professional members of the NFL is amazing.
October is not the only month that breast cancer is on the minds of professionals and athletes in the NFL.  These individuals include the recognition efforts beyond the month of October in some other initiatives that they partake in.  For example, there are league sponsored breast cancer events in the spring and summer seasons, including golf tournaments.  October is the official awareness month and the NFL spends four specific weeks to show lots of pink throughout the stadiums and with the individual organizations.
Filed in: Awareness Products • Think Pink Tags: breast cancer awareness • NFL Supports Breast Cancer Awareness • pink products