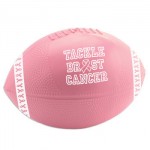 Whether we want to admit it or not, summer is coming to a close and fall is just around the corner. But before you get bummed, that isn't necessarily a bad thing!  Yes, the air is getting cooler and our beach days are limited (if you're fortunate enough to get some on the weekends) but blowing in with the crisp fall breeze are seasonal sports and National Breast Cancer Awareness month.
What better way to raise awareness than to incorporate educational and fundraising events into your favorite sporting events like football and cheerleading. If you're part of the PTA, a teacher, a team coach, or just a parent that likes to volunteer your time when you can, there's no better cause to support during October than breast cancer awareness.
Football players and cheerleaders are influential athletes that go hand-in-hand.  As leaders of their school community, with events like Homecoming revolving around them, they present the perfect platform to raise breast cancer awareness and fundraise for the cause.
Unless a football team was to make playoffs, homecoming is usually the biggest football game of the season, especially for the amount of people in attendance.  You have students, parents, teachers and faculty; basically it becomes a huge community event generally held in the beginning of October. This would be the perfect event to kick-off (pun intended!) a breast cancer awareness fundraising event in your school.
Here's how to do it:
There is such a large assortment of football and cheer related breast cancer awareness products that your fundraiser can be as big or as small as your school can host.  Any amount of donation to the cause counts and none are ever too small.  Never underestimate the power of the awareness you'll raise by hosting such an event and the difference it can make across generations now and to come.
Filed in: Fundraisers Tags: breast cancer awareness • cheerleaders • football • fundraising ideas • pink products • schools