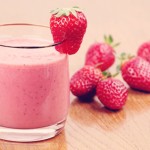 Hold a pink-themed luncheon at your workplace or with friends! Ask for a small donation per plate to give back to the cause, whether to a local organization or a prominent ones like the American Cancer Society.  Serve up foods that are naturally pink such as watermelon, raspberries, and pink grapefruit.  Blend strawberries, bananas, and vanilla yogurt to make pink smoothies. Add pomegranate seeds, radishes, and shrimp to salads. Refreshments like cranberry juice and pink lemonade are the perfect thirst quenchers for the day.
Offer educational material like self-exam shower cards and health journals to attendees to help raise awareness about the benefits of early detection!
*Visit the Breast Cancer Awareness Facebook page to receive exclusive discount offers for breast cancer awareness awareness and fundraising merchandise.
Filed in: Fundraisers Tags: american cancer society • breast cancer awareness • fundraising ideas • pink